As a reminder, tomorrow is the freshman field trip. Please make sure that your student dresses appropriately to be outdoors most of the day, it is supposed to be a bit cool. Students will also need to wear close toed shoes. If they are bringing their own lunch, please make sure they bring it with them on the bus. Please be sure students arrive to school by 8am so that we can begin the trip on time. I hope everyone enjoys tomorrow's activities!!
Clare Athletics Sept 4- Sept 9 Tuesday, September 5 4 pm Golf at Sacred Heart (Mt. Pleasant Country Club) 5 pm Varsity Soccer at Roscommon (Tickets: Cash Only) 5 pm MS Volleyball at Shepherd (Tickets: Cash only) Wednesday, September 6 6 pm JV Soccer at Valley Lutheran (Tickets: Cash Only) 6 pm Freshman Volleyball hosts Sacred Heart (Tickets: Gofan only) 6 pm JV Volleyball hosts Farwell (Tickets: Gofan Only) 6 pm Freshman Football hosting Cadillac (Tickets: Gofan Only) 7:30 pm Varsity Volleyball hosting Farwell (Tickets: Gofan only) Thursday, September 7 5 pm MS Volleyball hosting Gladwin (Tickets: Gofan Only) 5:30 pm Varsity/ JV Volleyball at Houghton Lake (Tickets: Cash Only) Please join us for our Soccer/Football Doubleheader at Brookwood Athletic Complex 5 pm Varsity Soccer hosting Midland Calvary Baptist (Tickets: Gofan Oly) 6:30 pm JV Football hosting Beaverton (Tickets: Gofan Only) Friday, September 8 7 pm Varsity Football at Beaverton (Tickets: Cash Only) Saturday, September 9 TBD HS Cross Country at Northwood 9 am MS Cross Country at Bullock Creek ($5 admission fee) 9 am JV Volleyball at Alma Invite (Tickets: Gofan Only) 8:30 am Freshman Volleyball at Swan Valley Invite (Tickets: Gofan Only) To purchase tickets or passes for any Clare Athletic event please visit:
https://gofan.co/app/school/MI10317
We also accept credit cards at the gates. If you can't make it to the event, you can livestream a home Clare Athletic event on NFHS Network:
https://www.nfhsnetwork.com/schools/clare-high-school-clare-mi
Have a great week Pioneers! Together!
Regular classes at CHS will begin with a half day on 8/21/23. CTE courses do not begin until Tuesday 8/22. Student who have AM CTE should plan to report to CHS by 9:40 on 8/21, and students who have PM CTE will be released from school at 10:10 on 8/21. Dual enrollment course through MMC do not begin until 8/28. Dual enrolled Psychology students should attempt to access their moodle accounts after 8/28/23.
Freshmen orientation will take place on August 16th, beginning at 6pm in the high school gymnasium. All freshmen and new students are encouraged to attend this orientation session. Information regarding the upcoming school year, graduation requirements, student organizations and more will be presented during this time. After orientation the school will be open for students in all grades to try out their lockers, find their classroom and meet their teachers. We look forward to seeing you there!

Schools of choice applications for 2023-2024 school year Under the Schools of Choice legislation (Section 105 and Section 105(c) of the School Aid Act), kindergarten through twelfth grade students residing within Clare Gladwin Regional Education Service District (RESD) and contiguous intermediate school districts, may apply to Clare Schools for enrollment for the first semester of the 2023-2024 school year. Application may be made for grades Kindergarten through 3rd grade with unlimited openings, grades 4th through 8th have limited slots. Applications will be accepted from July 27 through August 17, applicants will be notified on August 18 or before of their acceptance. Enrollment must be finalized no later than the end of the first week of school. Transportation for school of choice students is the responsibility of the parents or guardians.
Just a quick reminder that tomorrow is the last day to pick up senior banners. If you have not gotten yours yet, please do so by 3pm tomorrow.
Senior banners will be available for pick up in the high school office from Monday - Friday from today (6/2/23) through next Friday (6/9/23) between the hours of 8am and 3pm. Remaining banners will be disposed of after 6/9/23.

Good morning Pioneers...as we press on toward the May 2 bond vote authorized unanimously by the Board of Education, please note that you can find information regarding the bond issue on our website at any time. The bond proposal is for $66.52 million and includes building a new high school, renovating the current high school to serve as a middle school, safety and traffic enhancements, and removal of the 1922 middle school. Due in part to the age of our facilities (101 years old, 63 years old, and 51 years old), the Board has determined it is time to put this issue before the voters and to act. Tours of the 1922 middle school will be offered at 7 p.m. on March 14th and April 11th, as well as 10 a.m. on March 15th. Please meet at the main entrance to the middle school on State Street. Additionally, Community Forums will be held at 7 p.m. on March 15th and April 12th in the Middle School Auditorium. These are opportunities to better understand the scope of the bond project, costs, and goals. This information is also on the website. Please Vote May 2nd!
Help support our Junior class!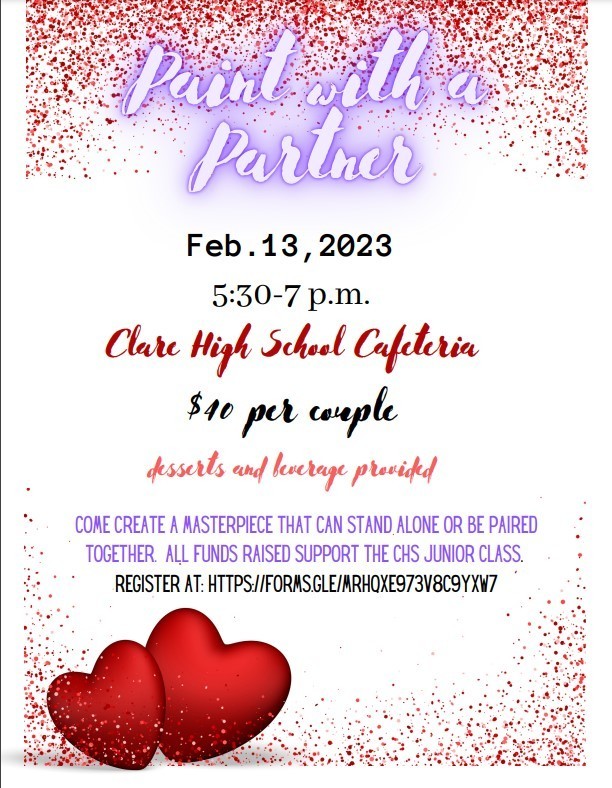 The Clare County Youth Council is looking to help you!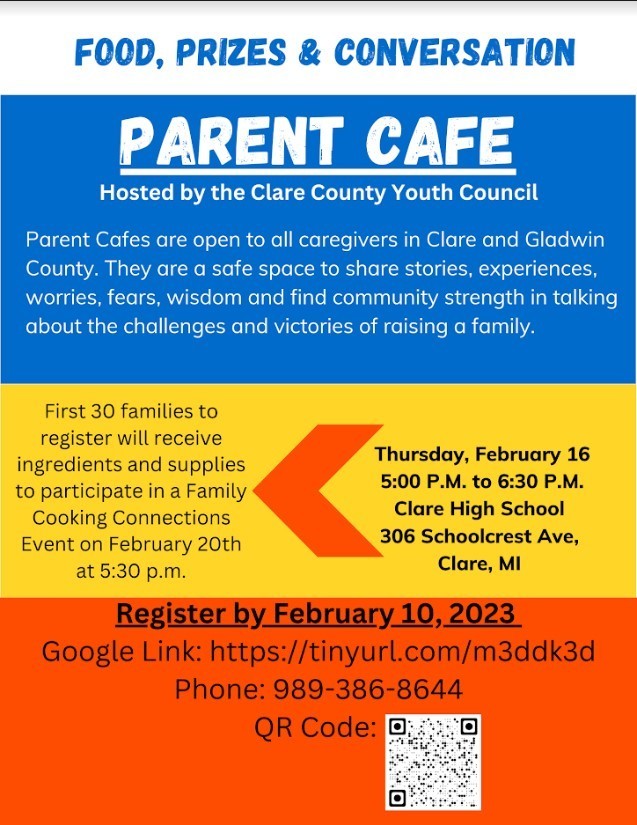 Clare Athletics for the week of Jan 16-Jan 21 Be sure to purchase your Winter Bash Raffle Tickets from your favorite coach or the athletic office Monday, Jan 16 5 pm MS boys basketball triple header at Shepherd Tuesday, Jan 17 11 am Ski at Cadillac Invite 4 pm Freshman/ JV/Varsity Boys Basketball travels to Big Rapids 6 pm JV/Varsity Girls Basketball hosting Big Rapids Wednesday, Jan 18 5 pm MS Boys Basketball hosting Gladwin in a triple header 6 pm Wrestling at Farwell with Pinconning 7:30 pm Hockey at Midland High Thursday, Jan 19 6 pm JV/Varsity Girls Basketball hosting Meridian Friday, Jan 20 4:30 pm All 3 levels of boys basketball at Meridian 5:30 JV Wrestling at Reed City 7:20 Hockey hosting Muskegon Saturday, Jan 21 10 am Wrestling at Reed Cit Invite 10:20 am Hockey hosting Muskegon 1 pm Bowling at Shepherd Have a great week Pioneers! Together!
Clare Athletics Jan 3- Jan 7 Tuesday, Jan 3 6 pm Boys Varsity/JV Basketball hosting Ogemaw Heights Wednesday, Jan 4 5:30 Girls JV/Varsity Basketball at Ogemaw Heights 6:30 Bowling at Pinconning Valley Lanes 7:35 Hockey at Freeland Thursday, Jan 5 4:30 pm Freshman boys basketball hosting Sacred Heart 6 pm Varsity/ JV boys basketball hosting Farwell 5 pm Ski at Snowsnake Friday, Jan. 6 6 pm Varsity Girls basketball at Farwell 6:50 pm Hockey hosting Gaylord at Martin Ice Arena Saturday, Jan 7 9 am Wrestling at St. Louis Invite 9 am Boys bowling at Beaverton 2 pm Girls bowling at Beaverton 2 pm Hockey at Big Rapids Together!
Clare Athletics Dec 19-Dec 29 Monday, Dec 19 4 pm Boys Freshman basketball at Swan Valley 5:30 pm Boys JV Basketball at Swan Valley 7 pm Boys Varsity Basketball at Swan Valley Tuesday, Dec 20 6 pm Girls Varsity/ JV hosting Swan Valley Friday, Dec 23 9 am Wrestling at TC West Individual Tournament Thursday, Dec 29 9 am Wrestling at Freeland Invite The Athletic Department hopes everyone has a great Christmas! Enjoy time with your families and get ready to have a great 2023! Together!
Clare Athletics Nov. 7-Nov. 11 Monday, Nov. 7 5 pm Girls MS Basketball at Shepherd Wednesday, Nov 9 5 pm Girls MS Basketball vs. Meridian 6 pm Pioneer Winter Rally If you son/daughter are planning to play a winter sport you should be attending this informational meeting. Brief comments from the athletic director and then there will be team breakout sessions. Have a great week! Together!
We will have our first Freshmen Friday tomorrow morning from 7:15-8:15. Teachers and support staff will be available to help Freshmen students with study habits (there is an Algebra I test Friday) as well as current homework. We will also have a morning snack for those who attend! Hope to see our freshmen there!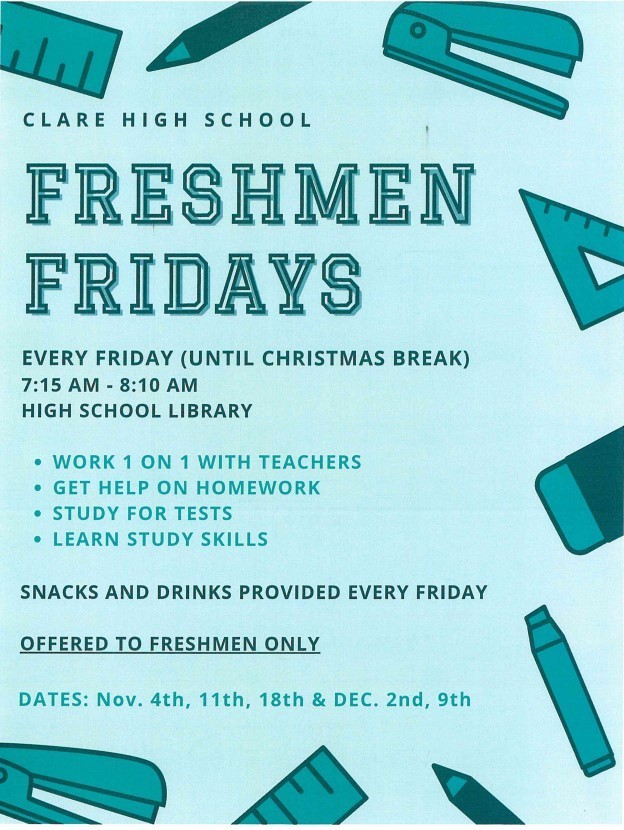 Our sophomores had the opportunity to attend the MI Career Quest at SVSU today. This event aims to help students learn more about careers that may interest them. Students had an opportunity to participate in many hands on activities, and talk with experts from a wide variety of fields.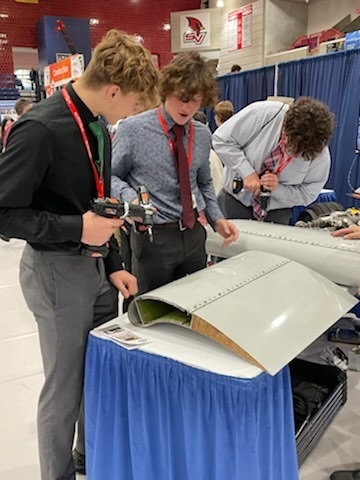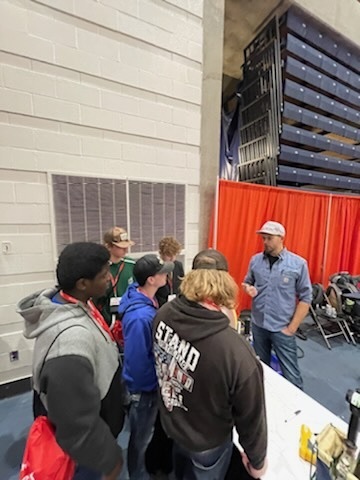 Congratulations to our new NHS inductees! They include Chloe Allen, Cayla Barber, Kenna Barber, Morgan Bowers, Abigail Brown, Noah Camp, Ethan Cook, Brooklyn Dangler, Tim Eberhardt, Kara Forsberg, Hannah Green, Julia Haggart, Miles Haggart, Annelise Hansen, Morgan Jones, Kami Kingsley, Andrew Klaus, Izabel Krumrey, Aaron Lingaur, Lucille Nobis, Sydney Nummerdor, Kyle Potter, Jake Punches, Kaydence Pung, Ryan Rodenbo, Brogan Russell, Olivia Ryzyk, Bailey Seibt, Chloe Sprague, Megan Veitengruber, Mackenzy Warner, Kadence Zelinski. The NHS induction ceremony will be held on November 8th at 7pm.
Congratulations to our business students who earned their Microsoft Word Certification in Computer Tech I. This is a national certification exam.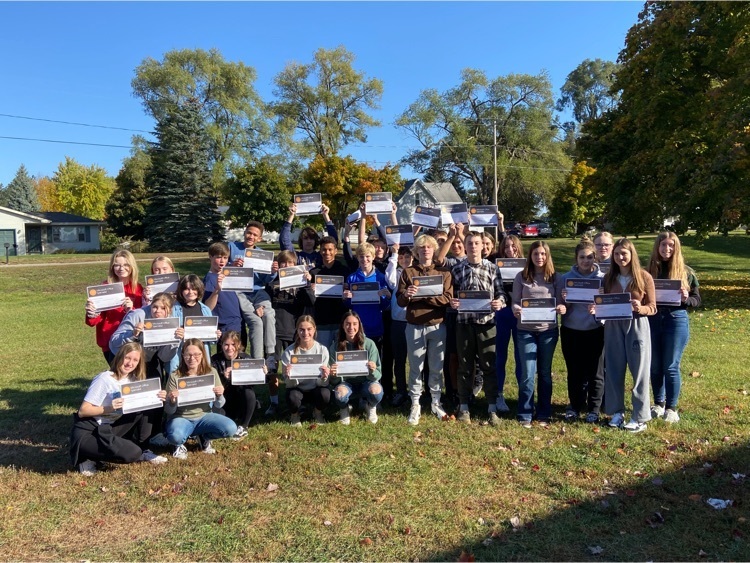 A quick reminder that Freshmen Orientation will take place from 6-7pm tonight followed by the entire school open house from 7-8pm. Hope to see you there!!